Model 5025 Electric Wire Twister:

The Model 5025 Electric Hand Held Wire Twister is designed for twisting two or more wires at lengths of up to 20ft (6m). This 5025 Wire Twisting Tool can twist several small plain or terminated wires. The maximum material bundle should not exceed an equivalent of three 25AWG (0.5mm O.D) insulated wires. The twisting speeds vary from 0 up to 26 turns per second.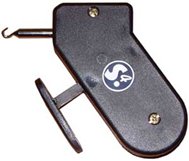 This Electric Wire Twister is recommended as a replacement for the obsolete CWEL-19 Hand Wire Twisting Tool (pictured above), this tool was used for twisting wire loops for taps and skeins lead ends for safety in wire termination, plus it reduces open circuit problems with wire endings.
Model 5025 Electric Wire Twister
Model 5025 Electric Wire Twister

Product Code: CWEL-T5025
Availability: 3